These TIP nerves that are excited by the application of a massaging-type pressure (i.e, alternating pressure and the release of pressure) send a waves of sexual excitement throughout the upper penis, giving the uncircumcised man exquisite pleasure and building him to orgasm.
Therefore, it's very, very important that the glans not be compacted tightly against the corpora cavernosum TIP.
If the erect penis glans presses tightly against the ccTIP,
the sexual nerves in the ccTIP get too much constant direct stimulation and they end up sending out fewer pleasurable sensations during intercourse, and they may be even go completely numb. (Women, similarly, can experience numbness in their clitoris if they apply too much constant, direct touch to it.)
REMOVAL OF THE FORESKIN CAN CAUSE THE cc TIP
TO LOSE SEXUAL FEELING DURING INTERCOURSE
AND EVEN GO NUMB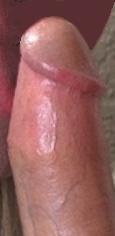 The video in Reason #5 explained that circumcision removes 1/3 to 1/2 of the penis's available shaft skin. An insufficiency of shaft skin can cause the erect circ penis tissue to compact.
When the compacted circ glans presses down tightly on the ccTIP, the circ man experiences a reduction in pleasurable feeling in his upper penis during intercourse thrusting. His upper penis area can end up going numb, or even worse, register discomfort and/or pain.
This reduction in pleasure coming from the upper area causes the circumcised penis to seek pleasurable feelings elsewhere on the penis. It, therefore, thrusts to excite pressure-sensitive nerves in its middle and lower area. However, there are fewer pressure-sensitive nerves in the penis's middle and lower area, and they are deeper inside the corpora cavernosum tissue, so they require strong, hard thrusting against the vaginal opening to excite them.
Therefore, the circumcised man thrusts hard, rough and tough, tense, forceful, and even bangaway.
Why the Circumcised Penis Thrusts Hard
In contrast, the upper penis nerves of the uncircumcised penis create very high levels of pleasure with very little force. Thus, they only need gentle, easy thrusting motions to excite them.
Natural, uncircumcised sex is designed by nature to be a gentler experience for the woman.